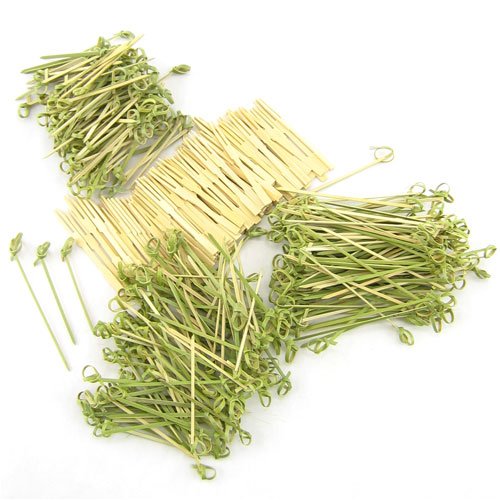 Ah…summer. Ah…the heat. Ah…the fancy drinks. Ah…the snacks.
Patio snacks and fancy cocktails are not complete without that extra flair. These bamboo forks are perfect for appetizers and made of environmental friendly bamboo. And the cute little knotted picks in a cocktail will remind you of that last trip to Mexico (well it does me anyways).
There are one hundred 3.5″ mini forks and three hundred knotted picks consisting 100 of each of 3.1″, 3.5″, 4.7″ sizes.

Please don't be the person that uses toothpicks instead. I swear to you twice now I've been served appetizers on mint flavored toothpicks. The second time it happened I had just made a joke about the first time only to discover to the hosts dismay that she just made the same mistake!
 400 Piece Bamboo Cocktail & Knotted Picks and Mini Forks