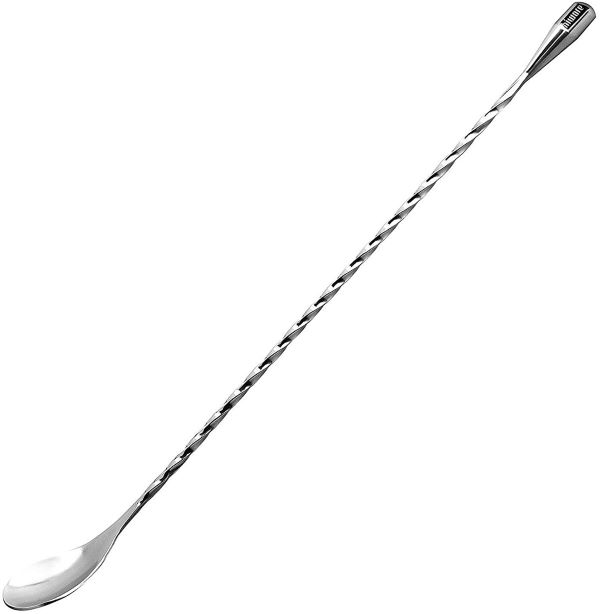 This is the final entry in our "Different Types of Spoons"  series and last but not least it's the "Cocktail Spoon" aka the Bar Spoon.
A bar spoon is a long-handled spoon used in bartending for mixing and layering of both alcoholic and non-alcoholic mixed drinks. Its length ensures that it can reach the bottom of the tallest jug or tumbler to mix ingredients directly in the glass. A bar spoon holds about 5 millilitres of liquid (the same as a conventional teaspoon). Its long handle is similar to an iced tea spoon, but is usually decorative and elegant – some variations mimic large swizzle sticks, with a disc at one end. The shaft is typically thin and threaded so that the fingers can easily grip and rotate the spoon. –https://en.wikipedia.org/wiki/Bar_spoon
OK, we are finishing strong here with this famous flatware as the design really is a timeless classic. And it's multifunction as a stirrer, spooner and masher.
You can't go wrong with the Hiware Cocktail Shaker Spoon. It's 12 inches of 18/10 stainless steel which will elegantly mix or mash anything. You name, it will mix it. We've learned in our house it's really good for getting that last gerkin pickle out of the jar!
Hiware 12 Inche Stainless Steel Bar Cocktail Shaker Spoon from Amazon