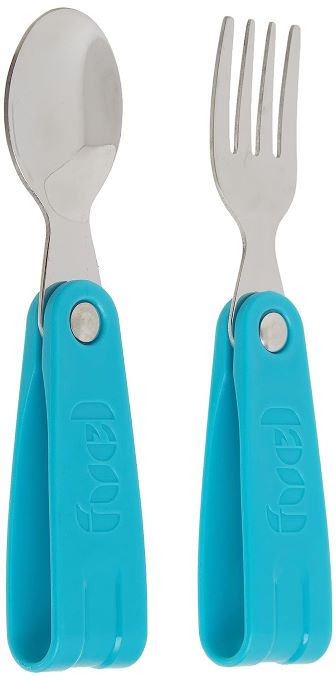 Trudeau Tropical Foldable Cutlery is a convenient and practical solution for individuals on the go. Designed by Trudeau, a reputable brand known for its quality kitchenware, this foldable cutlery set offers portability and versatility. The set includes a foldable spoon and fork making it easy to carry in a purse, backpack, or lunchbox.
One of the key features of Trudeau Tropical Foldable Cutlery is its durability. The utensils are made from dishwasher safe BPA-free polypropylene handles and high-quality stainless steel, ensuring longevity and resistance to rust or corrosion. The foldable design allows for easy storage and protects the utensils from damage. Whether you're heading to the office, going on a picnic, or traveling, this cutlery set is a practical choice to enjoy meals on the go without compromising on quality or convenience.
Moreover, Trudeau Tropical Foldable Cutlery is not only functional but also aesthetically appealing. The set is available in vibrant and tropical-inspired colors, adding a touch of style to your dining experience. The sleek and modern design of the utensils elevates the overall look, making them suitable for both casual and formal occasions. Whether you're enjoying a quick meal during a hike or hosting a small outdoor gathering, Trudeau Tropical Foldable Cutlery combines practicality with visual appeal, making it a popular choice among individuals seeking a trendy and portable cutlery solution.