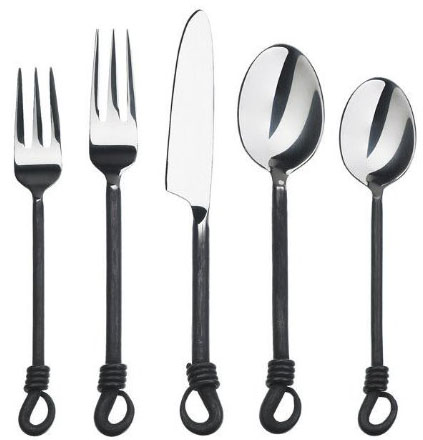 Here at The Cutlery Review we had looked at the Gourmet Settings Treble Clef Flatware Set a while back. It is a clever design but we are looking for something even more rustic which led us to another "Gourmet Settings" design called the "Twist and Shout".
We wanted rustic and we found cutlery that would serve well on any vikings table! This handmade flatware has stainless steel handles that are polished black with clever twisted and knotted end loop. That loop would come in handy for using on a hanging cutlery tree for storage (but that is for another post another day). The business end has a polished mirror finish.
A 20-piece set with service for four that includes a dinner fork, dinner knife, salad fork, table spoon and teaspoon. These are dishwasher safe and covered by a 25-year warranty and before you ask, no, they do not contain pewter.
Gourmet Settings Twist and Shout 20-Piece Stainless Steel Flatware Set, Service for 4