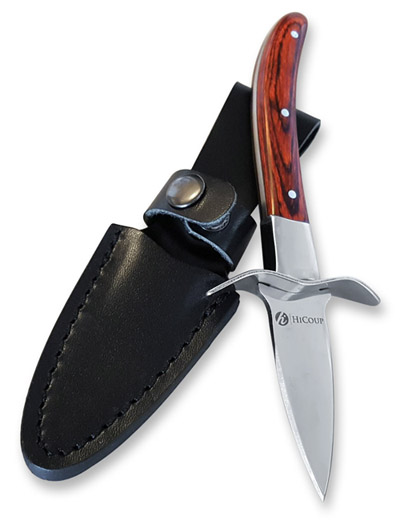 Months with a letter R in them means seafood. And next month is September and it's time for oysters.
Normally we don't look at knives on this site as many other's consider the definition of cutlery to include only knives. But we look at all knives, forks and spoons. And boy is this a great looking knife for the kitchen or BBQ. This oyster knife has a hit list by HiCoup:
A classic oyster knife designed by HiCoup, a North American based company with a history of designing fine kitchen tools
The durable and solid pakka wood handle ensures a firm, comfortable grip.
The "full tang" mirror finish 420 stainless steel blade gives the knife the strength it needs to open oysters and makes it incredibly durable for years of use.
The large guard will protect your hands from hitting sharp pieces from the oyster shell.
Versatile enough for any shape and species of oyster.
100% CUSTOMER SATISFACTION GUARANTEE
And a warning! – Although an oyster knife is relatively blunt compared to an ordinary kitchen knife, the fact that you often need considerable force to open an oyster would still mean that if your knife slips it could significantly damage your hands. So please exercise safety when opening oysters.