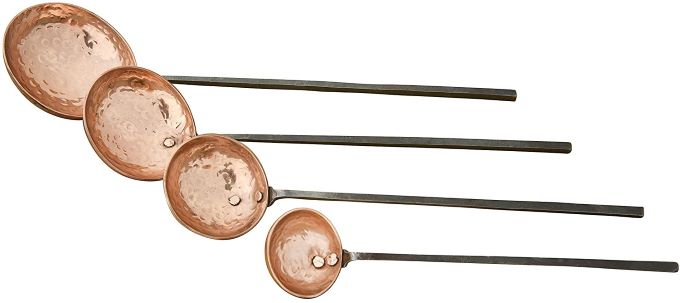 Yes, that is a very long title for a blog post but I have a lot to say. First that this post brings me nothing but emotional and physical pain. Why you ask? Because my gallbladder hates me and I can't eat eggs anymore. But that doesn't mean I can't talk about them.
So about 10 years ago there was a lot of hoopla about Alice Waters and her amazing new method of cooking an egg in a spoon over an open fire. She says this about it:
"I liked that feeling of watching it and holding it," Ms. Waters said in a recent interview. "It's not like cooking it in a pan. You just feel like you're really in charge of it. It's so elemental. It's really primitive, in a way."
You can read more at the NY Times article. And yes, she has a preferred spoon it seems. It's the Rome's 1024 Family Campfire Cast Iron Skillet with Steel and Wood Handle, 6-Inch from Amazon.
But to be honest, what got us digging around about metal spoons, ladles or scoops (use what name you prefer) was these copper ones pictured above. But first we did some research and whether frying in copper was ok. According to this article from Food52.com:
"And while we have you, a rumor we'd like to dispel: Copper is 100% safe to cook in, so long as it is lined with another, non-reactive metal (and most copper cookware is). Most commonly, you'll find linings made of nickel, tin, or stainless steel."
So we like these copper spoons that come as a set of four:
Small: 7. 5″L x 1. 5″W & . 5″ deep / Handle 6″ long
Medium: 9. 5″L x 2″W & . 75″ deep / Handle 7. 25″ long
Large: 10. 5″L x 2. 5″W & . 75″ deep / Handle 8″ long
And that way you aren't just cooking eggs but can use it for all sorts of things.
Creative Co-op Copper Hammer Textured Scoops & Smooth Handles (Set of 4 Sizes in Drawstring Bag) Ladles from Amazon