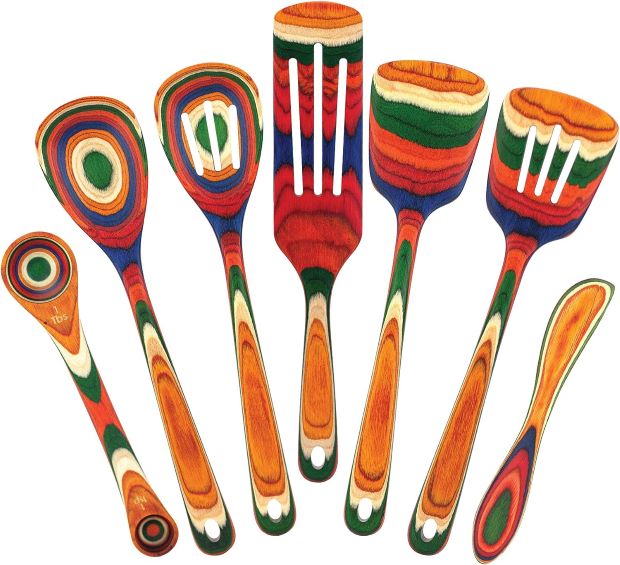 The Baltique Marrakesh Collection 7 Piece Cooking Utensil Set is a captivating blend of functionality and aesthetics, designed to elevate the culinary experience while adding a touch of elegance to the kitchen space. Crafted with precision and an eye for detail, this collection embodies the rich and intricate patterns reminiscent of traditional Moroccan design. Each piece in the set is a harmonious fusion of form and function, reflecting a commitment to quality craftsmanship. Baltique is a line of birch wood products made by Totally Bamboo; Totally Bamboo is a woman-owned small business based in California
The collection includes an array of essential cooking utensils that cater to various culinary needs. From stirring and flipping to scooping and serving, the set covers all the fundamental tasks involved in preparing a delectable meal. These cooking utensils are safe for use with all types of cookware, including nonstick coatings. The utensils are expertly engineered to provide optimal performance and durability, ensuring they stand the test of time even with frequent use. Whether it's the ergonomic handles that provide a comfortable grip or the seamless blend of the natural beechwood with the vibrant Marrakesh-inspired patterns, every aspect of these utensils is thoughtfully considered.
Beyond their practical utility, the Baltique Marrakesh Collection utensils are also pieces of art that bring a touch of sophistication to the kitchen. They have four colorful collections to choose from, each inspired by different destinations around the globe: Marrakesh, Mykonos, Malta and Mumbai. The intricate designs are not just painted on the surface but are ingrained into the wood, ensuring they remain vibrant and vivid throughout their lifespan. Beautifully crafted and eye-catchingly colorful, these pieces also work wonderfully for their intended tasks in the kitchen. The Marrakesh Collection is also available in Bartending Kits and as Steak Knives. This set is more than just a cooking tool ensemble; it's an expression of culinary creativity and a nod to the cultural aesthetics of Morocco, making it an excellent addition to both professional and home kitchens, where functionality and style coalesce seamlessly.

This is a advertisement sponsored by Totally Bamboo
Baltique Marrakesh Collection 7 Piece Cooking Utensil Set from Amazon