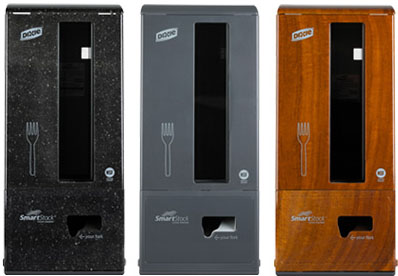 In Food Courts, Buffets and Cafeterias there are usually an open tray or bins of cutlery for you to take what you need. Sometimes there is an issue with contamination with the dirty hands of the public grabbing in that bin of forks, knives and spoons. Many times there is a problem of people taking extra cutlery home with them (it's more common than you think).
In comes the Dixie® SmartStock® Cutlery Dispenser which automatically dispenses pre-counted and pre-assembled cutlery packages. It dispenses prewrapped Dixie brand disposable plastic recyclable cutlery.
I'm not sure if this helps or hinders? It's a question of health versus the environment. It's a tough call.