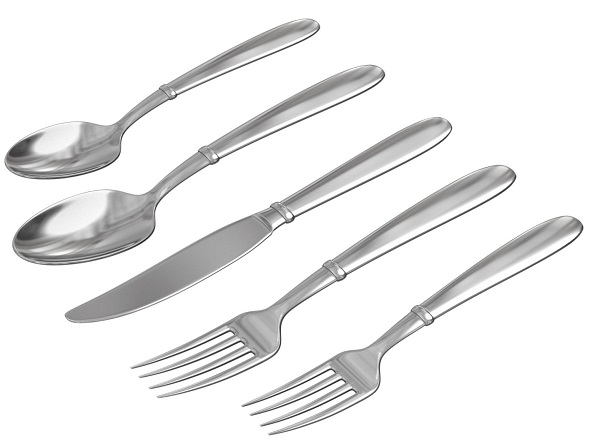 Let me say this right off the top, Lifetime Warranty. And secondly, 18/10 stainless steel that will never rust .  This setting for eight consists of 8 Dinner Forks, 8 Teaspoons, 8 Knives, 8 Salad Forks and 8 Tablespoons. A very classic, solid design for a great price.
But about that statement "will never rust". Anything will rust in the right conditions and you have to respect that. So they give the following guidelines:
Daily use of your Flatware keeps each piece bright and shiny. Below are some general guidelines to help you care for your sterling silver flatware:
• After each use, promptly wash or rinse your flatware with hot water and dry it.
• If you hand-wash your flatware, use a mild detergent.
• Do not leave your flatware sitting in water, as soaking can permanently damage the metal.
• Keep flatware and stainless steel flatware in separate baskets in the dishwasher.
• If you put the flatware in the dishwasher, keep detergent to a minimum, remove the flatware from the dishwasher before the dry cycle, and then dry items completely with a soft towel.
• Make sure your flatware is completely dry before you store it.
• If using daily: Store flatware in a moisture-free drawer.
• Do not wrap your flatware in rubber bands, plastic or newspaper, or in any material with a high sulfur content.
People, please read and follow these rules and avoid a disappoint.  In our house we never use the dry cycle in the dishwasher, it's too hard on everything. Just open the door and let it dry naturally from the residual heat of the hot water. With a good rinse agent you won't get spots, trust me.