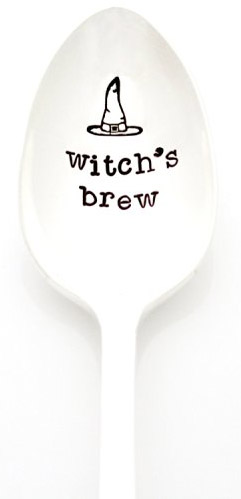 Fall. Leaves. October. Halloween. Time to prepare now and let's not mention Xmas yet.
This Witch's Brew Spoon is hand made and stamped from recycled vintage silverware. The spoon itself should be about 6 inches long and the flatware design will depend on what is on hand that is being recycled. This will be a one of a kind spoon for that one of a kind Witch.
Not sure if this is a nice gift and or a naughty gift? Hmmm…maybe it is better for Xmas.
Either way make sure to hand wash to take care of this unique spoon from Martha Stewart American Made Market.