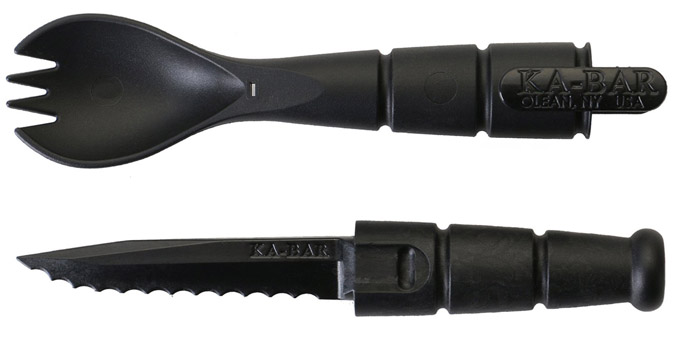 We love Everyday Carry Cutlery (ECC) here at The Cutlery Review. ECC isn't a brand, it's an attitude. It is the concept of always being prepared for a culinary challenge where ever you are.
And the Ka-Bar Tactical Spork Tool fills the need in all sorts of ways. What makes this spork tool by Ka-Bar different is that it is tactical. Usually that means applying some zombie killer green spray paint or a rainbow finish to a blade. But this fork, spoon combo has a rugged handle and an interesting knife inside.
This killer cutlery is 6.875 inches with a 2.5 inch serrated knife hidden in the handle. Perfect for cutting up steak or slicing open ration bags.  It's dishwasher safe as it is made from Grilamid FWA, a high-strength, technical polymer. It's food safe and UV resistant.
The perfect stocking stuffer for that adventurous person in your family.
Just don't take it to the airport, I know it's just plastic, by the FAA will take it away.
Ka-Bar Tactical Spork Tool