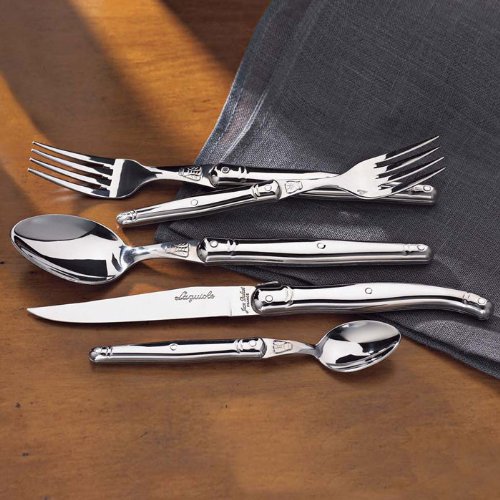 OK, first thing to point out is that this is a single setting for one person consisting of five pieces: 8-1/2′ Dinner Fork,  9′ Knife, 6-1/2′ Salad Fork, 8′ Soup Spoon, and a 6′ French Teaspoon. All are made of dishwasher safe 18/8 stainless steel.
The next thing to point out is that this is France's genuine 19th century Laguiole with the 'bee' symbol and everything. More famously known for their wine and cheese knife
their line of knives and cutlery hold their name and quality dearly much like "Champagne" does (and I would love to start a Champage blog if I had more hours in the day). The weighted hand hold feel of this set is delightful and takes a fine dining meal one step higher up the ladder. Beautiful work.
 Jean Dubost Laguiole 5-Piece Flatware Set -Stainless Steel