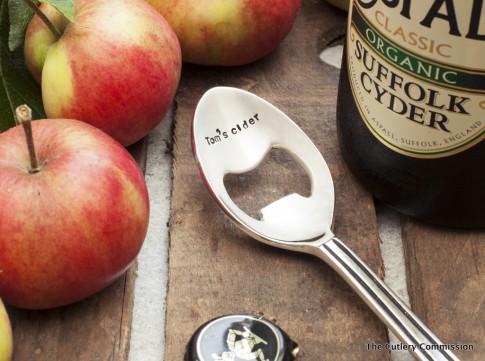 Normally I would save this posting for around Christmas time as it contains the most wonderful ideas for gifts. But you know, gift giving can be anytime of year. "Cutlery Commission" has taken the simple idea of stamping letters into cutlery and turned them into creative personal gifts or items for the home. The bottle opener shown above is one of my favorites and will surprise the beer connoisseur in your family when they sit down to find it at their place setting for the first time.
The cutlery used is silver plated brass and should hold up quite well. Hand crafted and unique for you, so don't go throwing it in the dishwasher please, wash by hand. All sorts of spoons, knives and forks can be created.
BTW – Being a bit of a champagne snob, please don't believe that a spoon in the bottle keeps the bubbles fresh. It's an old wives' tale.
For more info visit Thecutlerycommission.com