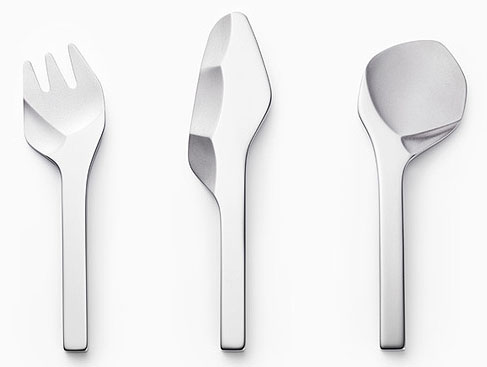 Sometimes on this blog we showcase the difficult to obtain or just downright impossible to get your hands on. This falls under difficult but worth it if you can.
A design studio in Japan has created a cutlery set inspired by prehistoric flint artifacts. The Sekki set was created by Nendo in collaboration with the metalwork firm Kobayashi Kogyo. To quote Nendo:
"We designed a three-piece dessert cutlery set to show off the firm's strengths. The silhouette of the spoon, fork and knife are warped and crooked, to recall prehistoric flint implements."
"The pieces' thickness and weight recalls stone, too, and we flattened the pieces' backs to further make the connection with cutlery carved from lumps of stone, pressing the metal sheets seven times, rather than the usual one. We sandblasted the concave areas of the surface for a matte finish and polished the rest to a mirror-like smoothness and shine, so that the pieces feel carved out of the metal. And each piece of cutlery itself resembles a primitive tool, carved from a lump of rock."
Rather specific to make it dessert flatware for the Flintstones. But the design is wonderful.