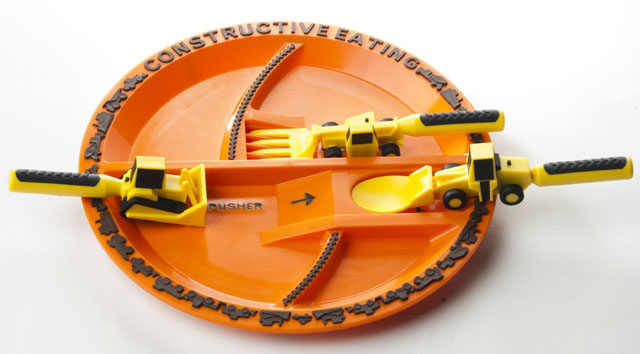 How cute is this? And word is it's sturdy and safe. Looks like some really smart design went into this fun cutlery set for the construction eater in your family.
This utensil set consists of a bulldozer pusher, forklift fork, and front loader spoon that are textured with easy grip handles for little hands. The plate features a connecting ramp and loading dock which are designed to work with the utensils to help little ones push, scoop and forklift food to the proper destination.
The flatware dimensions are 6″ x 1″ x 1″ and the plate is 9″ wide and 1″ tall.
When I say safe I mean: Dishwasher safe, BPA. PVC, Phthalate and lead free. Microwave safe. Fully compliant with CPSIA, EN71 and FDA Food Contact requirements.
Time to get to down to work and playing with your food!
 Set of 3 Construction Utensils with Construction Plate