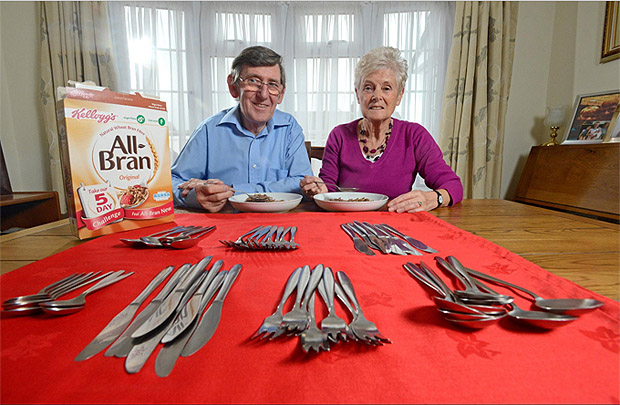 A retired couple have been using the same set of cutlery for 50 years – meaning it has been used 51,918 times. Fred and Val O'Hanlon got the 56-piece set the year they were married in 1964 and not a single spoon or knife has gone missing.
Grandmother Val, 73, said: "It has seen 50 years of constant use, through the trials of family life."  The couple, who celebrated their Golden Wedding in June at Hedge End, near Southampton, got the set after Val's mum Marjory collected tokens from boxes of Kellogg's All-Bran, for two years.  Fred, 74, added: "All I can say is it's a good job Marjory loved All-Bran so much. I never expected we would still have the set 50 years down the line. It has lasted as long as our marriage."
Val's mum Marjory collected tokens from boxes of Kellogg's All Bran, over the course of two years eating 730 bowls of her favorite cereal. Her dedication to collecting the vouchers meant Val, who lived with her, could send them off and trade them in for the cutlery. When the pair got engaged in 1962 Kellogg's were running the offer, which meant customers could receive a seven-piece cutlery set for collecting five boxes of All Bran. Each set of the stainless steel cutlery includes a dinner knife and fork, dessert knife, fork and spoon and a soup spoon and teaspoon. They've lasted as long as our marriage, they are the oldest things we own."
Val, 73, said: "In all this time we have never lost any of the cutlery, we haven't even lost a teaspoon. We don't polish them, we just keep them like any other cutlery."
When Val wrote to Kellogg's to tell them about their cutlery set, the company were so impressed they sent them each a special customized spoon with their names engraved on them to mark their 50th wedding anniversary.