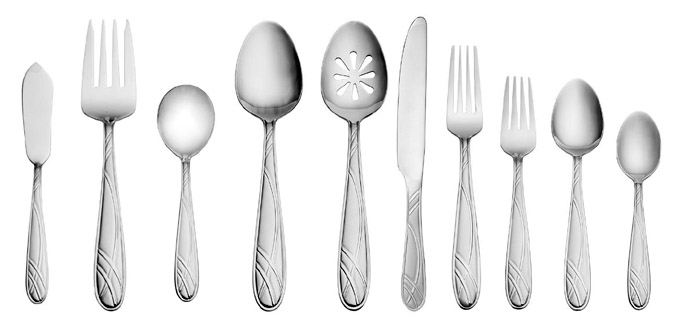 I can't pronounce Pfaltzgraff, I've read they were Pennsylvanian potters. Hoopla I can pronounce and understand though 🙂
The "Pfaltzgraff Hoopla Frost Stainless Steel Flatware, 45-Piece Set, Service for 8, with Wire Caddy" is exactly what it says and that's a lot. Besides the wire cutlery caddy you get a 45-piece set consisting of a setting for 8 of dinner fork, salad fork, dinner knife, dinner spoon, and teaspoon. But wait there's more, you get a 6-piece hostess set with 1 tablespoon, 1 pierced tablespoon, 1 cold meat fork, 1 sugar spoon,  and 1 butter knife.
It is made of stainless steel that has a lifetime limited warranty. And remember folks, you throw them in a pile in the dishwasher and you gonna get rust spots no matter how dishwasher safe they might say. So be kind to your cutlery.
Pfaltzgraff Hoopla Frost Stainless Steel Flatware, 45-Piece Set, Service for 8, with Wire Caddy