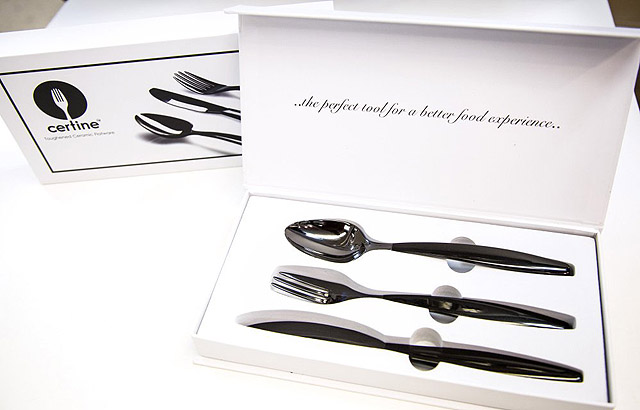 In the past we have talked about how there are concerns that stainless steel and especially silver in cutlery can affect the flavor of your food. Some people have gone so far as using gold plated flatware.
The restaurant Opus 10 is owned by David Muise, he and his business partner, Bill Todd, have designed a new line of ceramic flatware to address this.  The black flatware is called Certine is ergonomic, has a luster, doesn't scratch or discolor and is dishwasher safe.
"Why couldn't we have something and I didn't know what that thing was. That's why you need to have people because just because you have an idea doesn't mean you can flush it out. What can we do to create a fork that doesn't feel or taste like metal," according to Bill Todd.
The teaspoon and salad fork have been replaced by a combination teaspoon-tablespoon and a fork with triangular ergonomic handles.
"Ideally we'd like to take over the table scape. Everything that you interact with with food that's not made of ceramic currently, or rather metal, we'd like to be producing that. Serving spoons, serving dishes, gravy boats, you name it. We'd like to be producing a tough structural ceramic." stated David Muise.
And in a surprising move, they are already available for sale on Amazon! This isn't just a prototype. If someone can try it out, let us know what you think.
Certine 3-Piece Designer Ceramic Flatware Set- Fork, Knife, Spoon with Black Polymer Handle