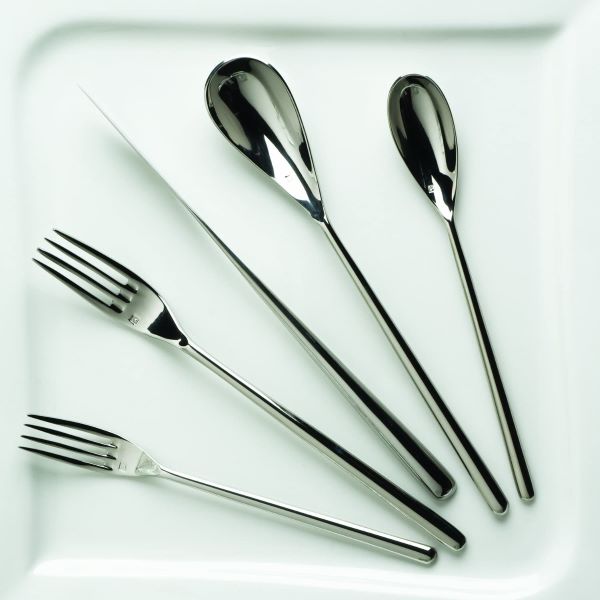 Fortessa Dragonfly cutlery is a stunning collection of silverware that is designed to elevate any dining experience. With its sleek and modern design, Dragonfly cutlery is perfect for any occasion, whether it be a formal dinner party or a casual family gathering. Made with high-quality stainless steel, this cutlery is durable, long-lasting, and resistant to tarnish and corrosion. Each piece in the set is carefully crafted to feel comfortable in the hand, with a balanced weight that makes it easy to use. Each 5 piece set includes a table fork, salad/dessert fork, table knife, dessert/soup spoon, and a coffee/ tea spoon. This is dishwasher safe heavy gauge 18/10 stainless steel flatware.
One of the standout features of Fortessa Dragonfly cutlery is its unique design. The handles of each piece are thin and elegant, with a delicate dragonfly motif etched onto the surface. This design gives the cutlery a sophisticated and refined look that is sure to impress your guests. Additionally, Dragonfly cutlery is available in a range of finishes, including polished stainless steel, brushed gold, and matte black, making it easy to find a set that matches your personal style and taste.
Overall, Fortessa Dragonfly cutlery is a top-of-the-line option for anyone looking to upgrade their dining experience. With its sleek design, high-quality materials, and attention to detail, Dragonfly cutlery is the perfect addition to any table setting. Whether you are hosting a formal dinner party or just enjoying a meal with your family, this cutlery is sure to impress and elevate your dining experience to the next level.