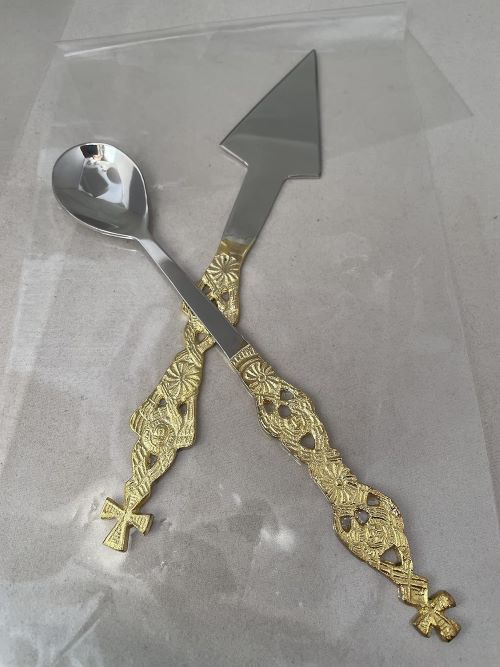 The Eucharist spoon, also known as a liturgical spoon or communion spoon, holds significant importance in the Christian sacrament of Holy Communion, particularly in Orthodox Christian traditions. This specialized spoon is used to administer the consecrated bread and wine to the faithful during the Divine Liturgy. The Eucharist spoon typically has a long handle, often ornately decorated, and a small bowl at the end. It is crafted with great care, using various materials such as silver, gold, or other precious metals, reflecting the reverence with which the sacrament is approached.
In the Orthodox Christian tradition, the Eucharist spoon plays a pivotal role in the liturgy. During the Holy Communion, the priest uses the spoon to carefully place a piece of the consecrated bread (known as the Body of Christ) into a chalice containing the consecrated wine (known as the Blood of Christ). This combination symbolizes the unity of Christ's body and blood and is then administered to the communicant. The use of the spoon signifies the solemnity and sacredness of this act, as well as a practical measure to ensure that the sacred elements are handled with the utmost care and reverence.
The Eucharist spoon is not only a religious artifact but also a symbol of the spiritual nourishment and communion between the individual and the divine. It embodies the idea that the Eucharist is a shared meal among believers, a tangible link between the faithful and Christ. The design and craftsmanship of the spoon vary across different Orthodox traditions and regions, often reflecting local cultural influences and artistic styles, making each Eucharist spoon a unique and cherished element of the religious experience.
Buy a Orthodox Christian Set of Communion Spoon and Lance for Divine Liturgy from Amazon