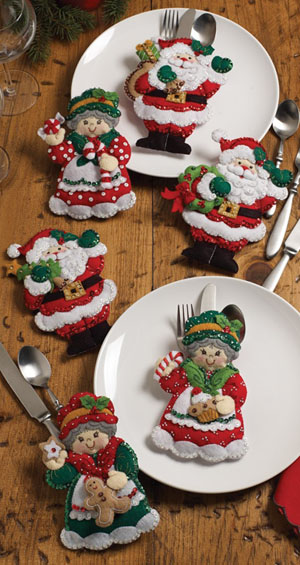 I'm sorry for posting this, but if you are going to be ready you should start your online shopping for Christmas now. I'm not saying it's time to put out the decorations and setup the tree. But now is the time to prepare.
And if you want that Christmas dinner table to look festive then I would suggest these cute silverware holders. Be warned that these are not pre-assembled as they are a kit (isn't that a Xmas tradition in the first place?).
Made of stamped felt each kit includes embroidery floss, beads and needles. Each piece in this set of 6 is sized 7.25-inches by 5.5-inches.
A nice Christmas Cutlery Craft for the holiday season.
 Bucilla Santa & Mrs. Silverware Holders Felt Applique Kit-5″X7″ Set Of 6