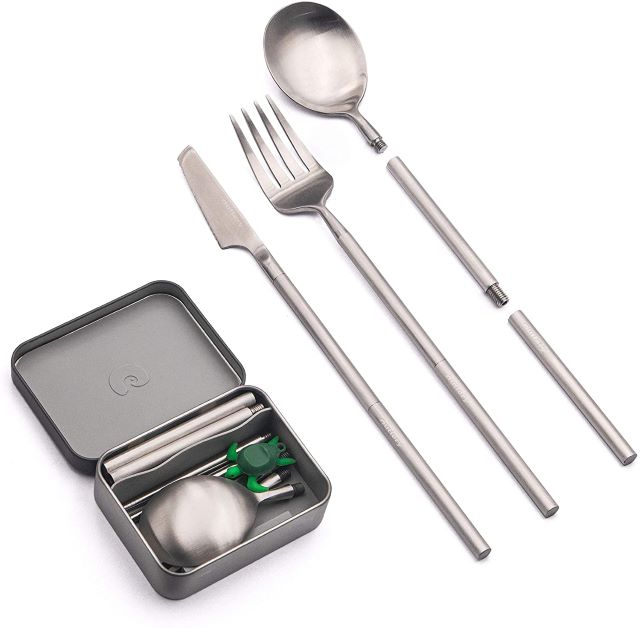 We love Bring Your Own Cutlery (BYOC) around here. Whether it's camping, picnicking or at the office, it's very handy to have your own cutlery that you can trust will do the job. And be clean, especially these days.
A lot of readers have sent us in the direction of this portable & reusable stainless steel travel cutlery set from Outlery. They raised more than $2 million on Kickstarter and Indiegogo and actually brought this product to the general market. Well done!
The key here is that it all fits into a little tin that is just 3.2 x 2.5 x 0.8 inches and fits nicely into a pocket. But once assembled you have a full length of 8.3 inches of cutlery. Made of stainless steel that is CNC milled and screws into a good fit.
And once you are done with your meal, just pour some water and wipe it clean with a napkin before storing it back in the tin box.
The knife is serrated so it is not TSA safe for carry-on. But you can leave that at home and take the fork and spoon. Flatware that travels!
This part is kinna fun:
"What's the purpose of the silicone turtle in my set?"

"One of the reasons we created Outlery was to play our part in helping marine life. Included in each set is Frankie, our resident turtle, to remind us that every time we use Outlery, we prevent a plastic fork from ending up in the oceans."
Outlery | Portable & Reusable Stainless Steel Travel Cutlery Set With Case from Amazon.com