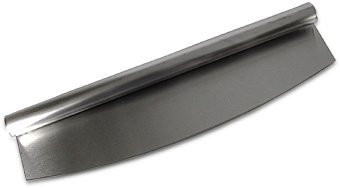 It's Pizza Week here at The Cutlery Review, we are reviewing kitchen utensils that are related to pizza. And in my opinion we have saved the best for last. The not so traditional but ever-so practical steel pizza cutter. Yup, just a big hunk of metal with a handle rolled into the top. Simple and elegant.
Pros: Easy to use, safe, won't damage cutting board, multi-tasker, won't push pizza toppings away from itself, makes a great dicer and cutting board scraper.
Cons: It's big, need professional sharpening.
The RSVP World Class Pizza Cutter is as stated, it's world class and it cuts pizza.  Made of a heavy gauge 18/8 stainless steel it measures at 13 3/4″ long and 3 1/2″ wide. Dishwasher safe of course and stores in the kitchen nicely. It will handle any size pizza or bakery items. A nice product and our top choice for cutting pizzas or other items. Thanks for joining us for Pizza Week!
RSVP World Class Pizza Cutter