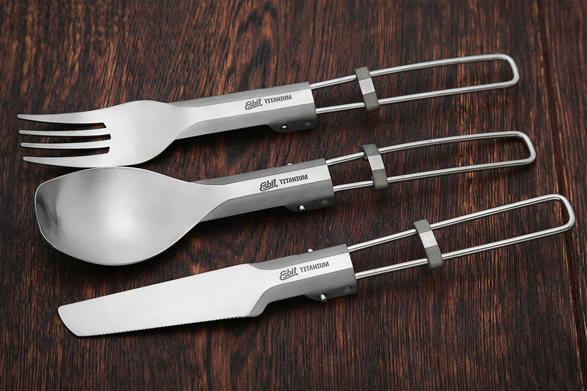 If you are a regular reader you know we are big proponents of Everyday Carry Cutlery. This titanium set of camping flatware from Esbit works for the forest or the office or your picnic.
Because this set of fork, knife and spoon are made of titanium it makes them lightweight, heat resistant, non-corrosive and non-magnetic. But wait there's more! The titanium surface means no metallic taste when eating with them.
Each utensil folds down to less than 4.2 inches in length and the handle locks into place when extended with  a loop handle that works for hanging from your pack or to dry.
Available from Amazon:
Esbit titanium cutlery folding Fork
Esbit titanium cutlery folding Knife
Esbit titanium cutlery folding Spoon