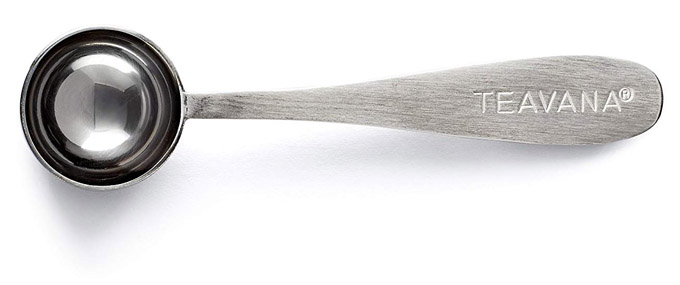 Behold, the simple tea spoon. No not a "teaspoon", not a piece of cutlery for measuring volume. This is a "tea spoon" (two words), used for measuring, delivering and mixing tea.
And I quote:
"Teavana Perfect Tea Spoon is exactly one teaspoon and scoops up even larger tea leaves with ease. And since it's made of brushed stainless steel, it won't rust, break, or melt like other teaspoons. Just put it away with your other tea accessories and make the next cup of tea that much easier."
But how perfect can it be? Here's a snippet of the comments on the Amazon listing:
So many questions: Can I use this for something other than tea? On a scale of 1 to 10, 10 being the most, how life changing is this teaspoon?

Answer:Perfect 10. And no, you can only use this for tea. Federal law requires that any spoons designated as "Tea Spoons" rather than "teaspoons" must be used "solely for the purpose of measuring dry tea leaves for the brewing and immediate consumption of hot or iced tea". Local law enforcement agents actually have testing equipment that allows them to analyze the surface of the spoon to determine if it has ever been used to measure anything other than tea. I actually wrap mine in aluminum foil and store it in a special lead lined box (which I also bought here at Amazon) when not using it to make sure it doesn't come in contact with foreign, non-tea objects. Also, always remember to use gloves (the manufacturer recommends Nitrile gloves – I prefer the type made for gardening since they provide a better grip on the spoon). see less
By D. Gutterud on June 18, 2014

Mine goes to 11, since I find it extremely useful as a scoop for both ice cream and creamed potatoes when having our parties for pixies, elves and the other woodland folk.
By uktravailer on January 13, 2015

This teaspoon Changed my life, I was using a fork to measure out my tea :/ I'm Soo glad I just bought a Tea Spoon, though……– Sawedoffsob
By Sawedoffsob on March 19, 2015

Will this spoon change my life?
By Sean D. on August 28, 2015
this spoon introduced me to my wife.
By JasonB. on May 9, 2015
See? It's perfect. The finest flatware.
Teavana Perfect Tea Spoon from Amazon