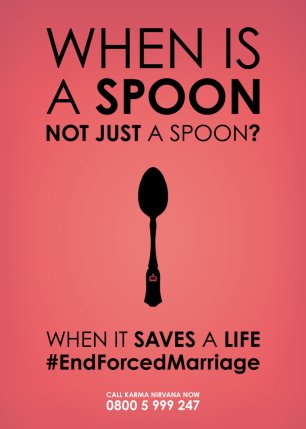 We've written about this before but it is worth revisiting.
Many young British girls (usually 15 or 16) are being sent to South Asia to arranged marriages, against their will. It is sometimes under pretense of going on holiday with family and they have no way of escaping their escorts and getting help. Sometimes the airport is their last chance in Britain to get help.
So Karma Nirvana charity came up with the genius idea of a spoon in their underwear. 'If they don't know exactly when it may happen or if it's going to happen, we advise them to put a spoon in their underwear,' said Natasha Rattu, Karma Nirvana's operations manager.
When the spoon sets off an alarm, 'they will be taken to a safe space where they have that one last opportunity to disclose they're being forced to marry,' Rattu told AFP.
But here's an important update from an informed user on Reddit:
VERY IMPORTANT; I HAVE WORKED AIRPORT SECURITY AT THE METAL DETECTOR FOR FOUR YEARS AND THIS IS MY ADVICE IF THIS HAPPENS TO YOU.
The spoon in your trousers trick is possible but it has to be a LARGE spoon. A dessert spoon can be missed by a metal detector as they are not perfect.
Walk SLOWLY through the metal detector, this will also alert the officer at the detector that something might be wrong. Try to communicate with the officer; mouthing, whisper, act dumb or like it's your first time so they come close to you to assist you, eyecontact HARD. You can only walk one at a time if you can walk by yourself.
For the metal detector to notice, put something large or very solid metal in your pants for a situation like this. Household objects for this can include: one or several LARGE spoons (can't stress LARGE enough), wrenches, one or several mobile phones, medals (several), batteries (several) or other electronic devices like remote controls etc.
Overkill is the keyword but this is for when your at the airport and should be viewed as a desperate last resort. Show your surroundings that this is happening, friends, teachers, leave notes, forums on the internet, signal from windows and so on.
I hope this will help someone. It only takes one person to notice and react. If you know someone this might be happening to, SPEAK UP. Better to have reacted to nothing than not reacting when it's actually happening.
You can help out at http://www.karmanirvana.org.uk/