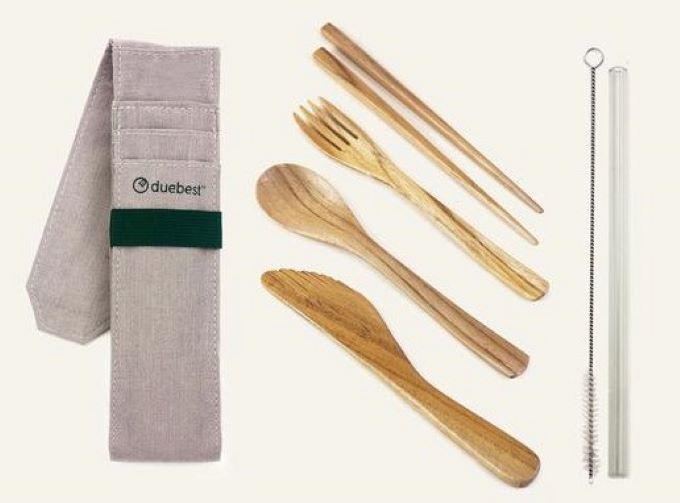 Bring-your-own cutlery (BYOC) is something we are passionate about here at The Cutlery Review. These days the demand is driven by health concerns but we are forgetting that the driving force early on for BYOC was environmental concerns. The disposable single-use plastic flatware and straws seems to have returned for now but let's hope it's not part of the new normal.
The wonderful folks at Duebest asked us to try their reusable wooden cutlery set and straw with cleaner and case. Right off the bat we have to mention the packaging for the shipment they sent us. No plastic in sight, no bubble wrap, nothing. Everything was recycled and recyclable paper packaging. We were impressed.
The set includes a fork, knife, spoon and chopsticks made of hand carved sustainably sourced teak wood. Each piece is a wonderful piece of carved artwork made by artisans in Bali, Indonesia. The flatware is 6.5″ long, so it's not tiny and good for adult sized hands.
The knife itself even though made of wood is one of the better, sharper and more functional we've seen of the plastic and wood knives over the years. The fork isn't very "stabby" but functional all the same. The spoon has a good bowl to it.
Also included in the linen/cotton blend carrying case is a glass straw with cleaning brush. Having a clear glass straw is nice, but don't stick this case in your back pocket for fear of breaking the straw.
We can heartily recommend Duebest's wooden cutlery set. In our house this will be replacing the existing metal camping set that was scratching our cookware.