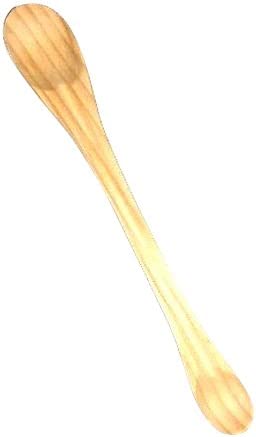 In our search for double ended spoons we came across this wooden tasting spoon. There is something about using wooden cutlery that just seems "right". Flatware that is wooden feels better on the teeth, lips and tongue. And for tasting were it could be hot food, wood is better than hot metal.
This double ended wooden tasting spoon by Louisiana Roux Spoon seems to be just the thing: "Chefs of the South use this tool for tasting their seasoning adjustments while creating their cuisines. The Louisiana Tasting Spoon is 11 inches long and made of Southern Pine. To Use simply dip the larger spoon well into your sauce or broth tilting it ever so slightly, the hot liquid flows down the center channel cooling gathering into the smaller well making for the perfect taste."
This whole tilting down the center channel idea is new to us and something we really want to try!