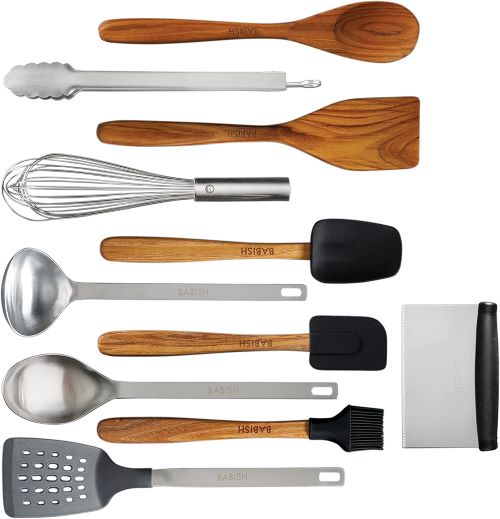 Babish is a big influence on us here at the Cutlery Review. And it's really nice to see that he is continuing to add to his popular product line and with things cutlery of course.
Next up is the "Babish 11 Piece Essential Wood, Silicone, and Stainless Steel Tool Set" which is pictured above. It is a clever mix of metal and wood cutlery that is the perfect starter set for a new or camping kitchen. And a great value as well.
So you've got all you need. The 11 piece set includes a silicone spoonula with wood handle, a silicone spatula with wood handle, a silicone scraper with wood handle, a silicone brush with wood handle, a wood spoon, a wood turner, a nylon slotted turner, a stainless steel whisk, a stainless steel spoon, a stainless spoon ladle, and one pair of stainless steel tongs.
But wait there's more to tell! The silicone, nylon and wood utensils are nonstick cookware safe (but not the metal ones cause that's scratch scratchy). It's best you hand wash these due to the wood handles.
Babish 11 Piece Essential Wood, Silicone, and Stainless Steel Tool Set from Amazon