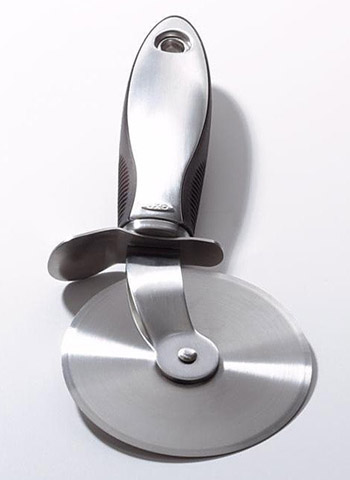 It's Pizza Week here at The Cutlery Review, we are going to review kitchen utensils that are related to pizza. We talked about pizza once before and this time we are going to spend this week focusing on what cutlery best cuts pizza.
And first up is the classic pizza wheel cutter. The mezzaluna (half moon) pizza wheel cutter was invented by Silvio Pacitti in 1708. It's a classic that you will see in any pizza restaurant and many home kitchens. They are safe, reliable, small and more or less suitable for home needs.
Pros: small, cheap, can handle any width of pizza, can be used for pie crusts and pastry as well.
Cons: may require strong arm pressure, can mess up your cutting board pretty badly, cheap ones break, not good for deep dish pizza.
The OXO Steel Pizza Wheel is a pretty good choice. It has a stainless steel blade and brushed stainless steel handle with ergonomic rubber grip on the sides (nice touch!). The safety thumb guard comes more into play about when you are putting your back into cutting thin crust pizza. And of course it's dishwasher safe. Good price for a good little cutter.
OXO Steel Pizza Wheel