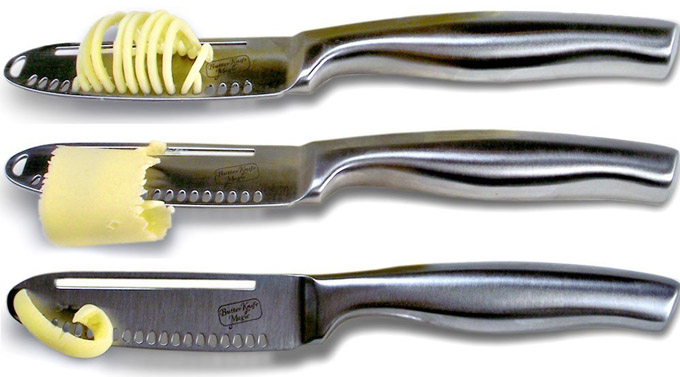 We reviewed a Kickstarter butter knife a while back. This isn't it, but close, with a bit more. They call it the "Butter Knife Magic, 3-in-1 Spreader, Grater, Slicer, Curler" and it sure does seem to do all that and more. It's made of  304SS stainless steel with chromium content that makes it dishwasher safe and will never rust or corrode.
But what can it do? It can make butter curls, ribbons or strips. Where the magic happens is when you are dealing with cold stored in fridge butter that just doesn't want to spread. This is where the Butter Knife Magic 3-in-1 Spreader shines in the cutlery world.
Oh yeah, it even works on hard honey ,cream cheese, hard cheeses and chocolate. A true flatware multi-tasker in the kitchen.
Butter Knife Magic, 3-in-1 Spreader, Grater, Slicer, Curler from Amazon