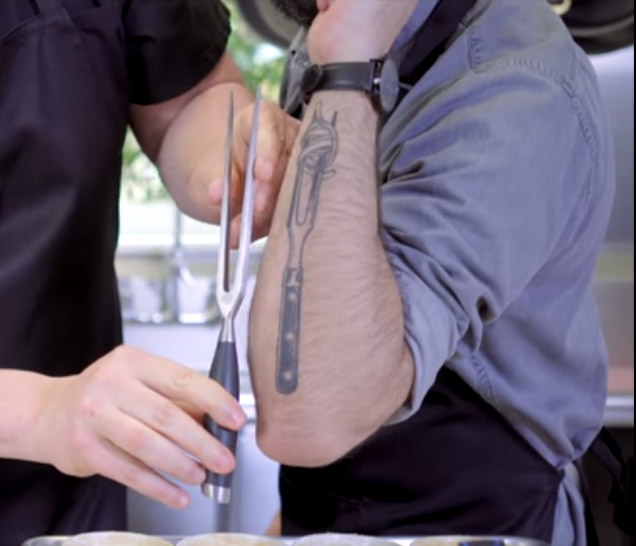 Today's cutlery post is just what it says on the title. We have finally found Jon Favreau's carving fork from the movie "Chef".
In the video screen shot above you can see Jon giving the original to Andrew Rea on the amazing YouTube show "Binging with Babish".
This is one of the less used but most valued items in our kitchen. The weight and balance are wonderful. Not great for teflon pans but perfect for everything else. And especially good for making the infamous "Pasta Aglio e Olio" also from "Chef" as below:
The 7-Inch Messermeister Park Plaza Forged Carving Fork is made of German 1.4116 high-carbon stainless steel. And it has a lifetime warranty against material and manufacturing defects. And did we mention it's forged steel?
Messermeister Park Plaza Forged Carving Fork from Amazon
Update:
Another video from Babish about the infamous carving fork:
Messermeister Park Plaza Forged Carving Fork from Amazon
Wow! Everyone is loving the carving forks. Here are five more alternatives that were recommended to us:
Messermeister Park Plaza 2-Piece 10-Inch Kullenschliff Carving Set
Wusthof 9647 Classic Ikon 2 Pc Carving Set, 2 Piece, Black
Wusthof 4413-7/18 Carving Fork, One Size
Kilajojo Chef Pro Stainless Steel Carving Fork 12 Inch
J.A. Henckels International Classic Stainless-Steel Meat Fork
OXO Good Grips Stainless Steel Carving Fork
But wait! There's more, he's just released a mug that features an image of the tattoo of the Carving Fork and Whisk: