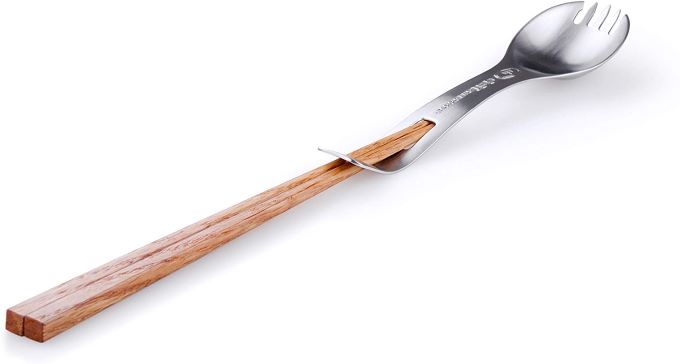 Come on! Kung Foon? That's hilarious! The silly name for this camping cutlery is what initially caught our eye. But then at second glance it was the functionality that really caught us.
The GSI Outdoors Glacier Stainless Kung Foon Utensil is a spoon, fork and a set of chopsticks all in one easy to carry package. It's compact size measures 10.7 x 1.9 x 0.9 inches. The Foon is made of stainless steel (supposedly there is a titanium version but we can't find it) and the chopsticks are made of bamboo.
I guess you could call it flatpack flatware? The extension by the chopsticks make it great for reaching the bottom of freeze dried meal bags and tall pots.
Great for the backpack or purse for "Bring Your Own Cutlery"!
GSI Outdoors Glacier Stainless Kung Foon Utensil from Amazon