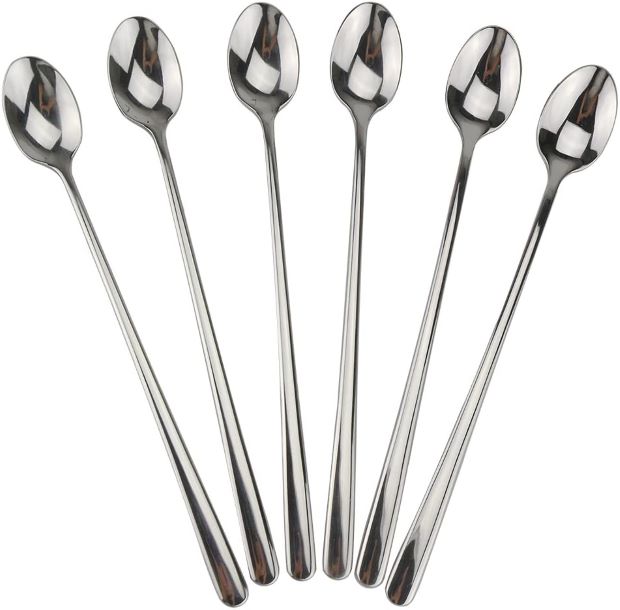 This is the fourth in our "Different Types of Spoons" series and today we look at flatware for tasty treats and more, the "Iced Beverage Spoon" which in the USA is known as the "Iced Tea Spoon".
An iced tea spoon, also called a soda spoon or a latte spoon, is a thin spoon with a very long handle.[1] It is used primarily in the United States, for stirring sugar or other sweeteners into iced tea, which is traditionally served in a tall glass. This is why the spoon has a very long handle.
Originally known as a parfait spoon, it is also commonly used for eating ice cream, especially floats and sundaes.[1] As these desserts are usually served in tall glasses, regular teaspoons or dessert spoons become inconvenient choices due to their limited reach. – https://en.wikipedia.org/wiki/Iced_tea_spoon
This is a versatile spoon that can also be used as ice cream spoons, ice teaspoons, coffee mixing spoons, cocktail stirring spoons and for eating rice. Yup, rice. Let's talk about that…
Look, we have to admit that here at The Cutlery Review we prefer the Sutgarak (숟가락) aka the Long Handled Korean Spoon. Especially when they are made of wood because they don't make such a racket like when a metal spoon is clanked around the inside of a glass. Our set of ADLORYEA Wood Handled Spoons get used a lot! You can find them here: ADLORYEA Wooden Long Handle Spoon from Amazon.
But if you want the classic metal Ice Tea Spoon then look no further than the Dealight Iced Beverage Spoon as pictured above. This set of six spoons measure about 9 inches in length and are made of dishwasher safe high-class 18/10 (304) stainless steel.