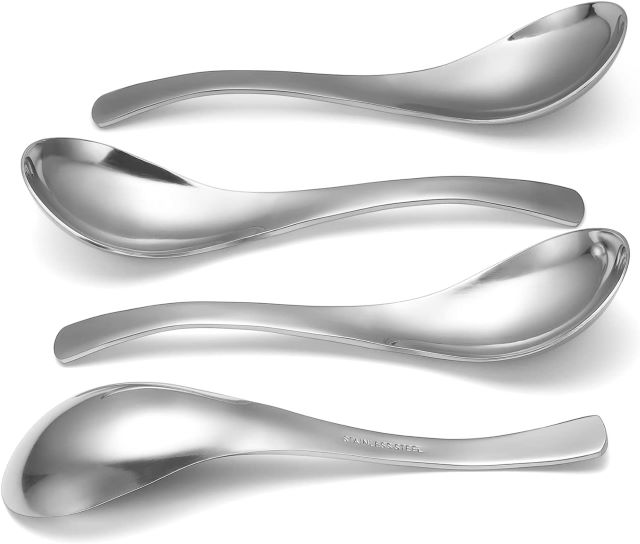 This is the third in our "Different Types of Spoons" series and next up is required flatware for any table, the classic "Soup Spoon".
"A soup spoon is a type of spoon with a large or rounded bowl, used for consuming soup. The term can either refer to the British soup spoon or the Chinese spoon. Round bowled soup spoons were a Victorian invention. Sets of silverware made prior to about 1900 do not have round soup spoons; a tablespoon was used (and still is in some British houses where the silver predates 1900)." – https://en.wikipedia.org/wiki/Soup_spoon
Let's be nice and sparkling clear here, we are talking Soup Spoon for putting soup or other food stuffs into your mouth. Not a "Ladle" which is used for serving said soup. Big difference as one is small for the mouth and one is large for the pot. Clear? Cool.
So let's talk about some cool cutlery, the Hiware Soup Spoons as pictured above. These are a nice design as inspired by the classic Chinese soup spoon. But no plastic here, these spoons are made of dishwasher safe 18/8 stainless steel. And they are hefty with a wide spoon head and thick shaft. This set of six spoons are great for soup, dips, cereal, stews, chicken / udon noodle, chinese won ton, shrimp ramen and anything liquidy.