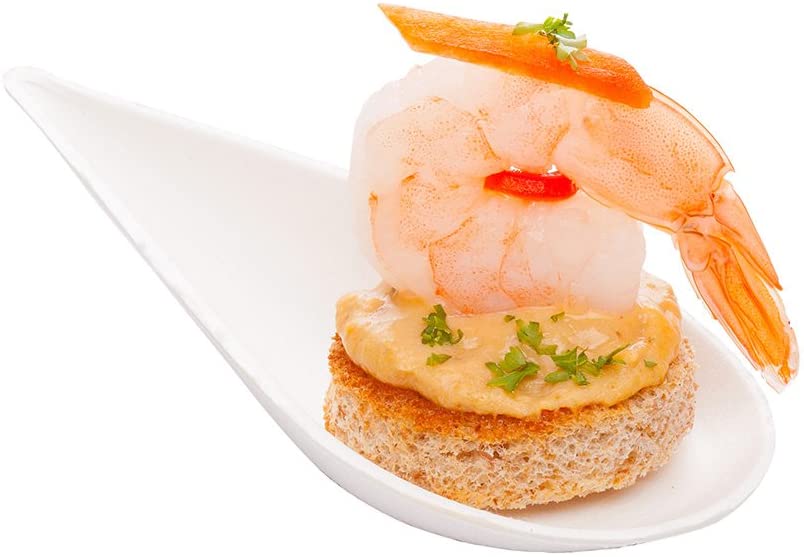 This is the eighth in our "Different Types of Spoons"  series and it's time for the "Amuse Bouche Spoon".
The "Amuse Bouche" is a small single bite hors d'oeuvre. The term Amuse Bouche is French and means "mouth amuser". Therefore a "Amuse Bouche Spoon" is usually a small ceramic or metal spoon that can be used to serve an amuse bouche. One piece of cutlery for one mouthful of fun.
Now with the Amuse Bouche Spoon being only used once at the table we really don't want to see it being something that is a disposable plastic product. Which most of them are sadly! But we did find a recyclable flatware option.
The Pulp Tek Compostable Tasting Spoons really seem to be the way to go. They are made from "bagasse" (which is a word we just learned), that is actually repurposed sugarcane fibers. The spoons are grease-resistant, freezer-safe, and microwavable safe. Throw them in the compost or your garden afterwards!
They come in a pack of 100 disposable tasting spoons that each are 4.25 inches long and 2 inches wide and can hold up to 0.5 ounces.
To us, the tear drop spoon shape is classic cutlery but many other shapes and sizes are available.
Pulp Tek Compostable Tasting Spoons, 100 Teardrop Shaped Bagasse Spoons from Amazon