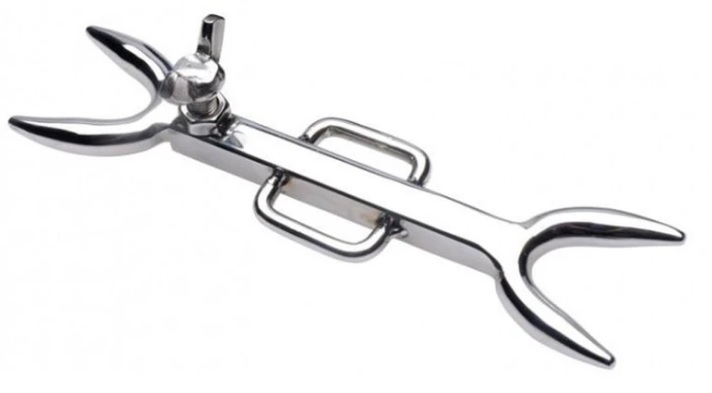 Sometimes we push the limits of the definition of "cutlery" here at The Cutlery Review. We don't post about knives much because they are a world unto themselves. It's like the world of wine but we don't like red, you get it? So cutlery sometimes includes kitchen gadgets, sometimes it's things that hold cutlery. It's our blog and we blog about what we want and most of the time it's cutlery, flatware, utensils, tableware, silverware or whatever it's called at home. Whether it's a fork, spoon, knife, spork or knork we'll cover it.
But we acknowledge that this time we are pushing it a little. I mean, it is a fork. Just look at the picture above. It's a nice shiny chrome fork. But how it's used is rather medieval, actually it's actually medieval. How it is used puts the "evil" in medieval. You looked ahead to the next picture didn't you? Cheater.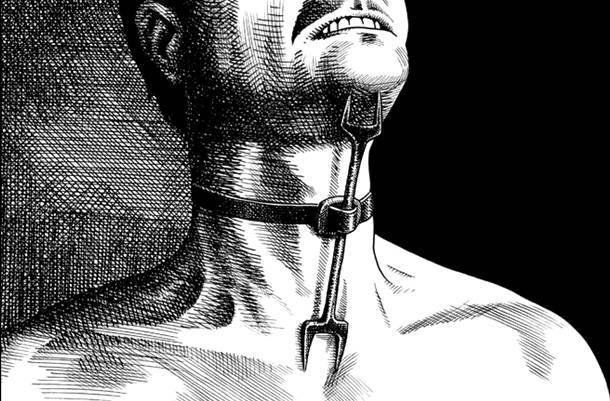 So ya, that's how it's to be used.
Here's the definition:
"A medieval torture device which consisted of a two-sided fork which would be strapped to the victims neck so that any movement of the jaw caused extreme pain."
Nice huh? Not something we would want to wear. Oh, you do? OK, we don't judge. What ever you do with your cutlery at home is your business.
Here's a link to buy a nice fancy one (ADULTS ONLY):